Found this at oldrecipebook.com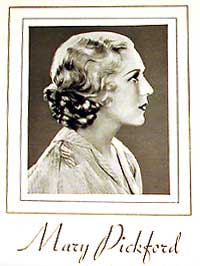 Mary Pickford's favorite Bisquick dessert.
The third page of the 1930's Bisquick recipe book introduces Mary Pickford, along with her picture. Mary Pickford was called "America's Sweetheart." and it says, "Her latest triumph, "The Secret," is now being shown on the screens of the nation. Leslie Howard plays the leading male role in the United Artists picture.
Mary Pickford, in whose affections can never take the place of Strawberry Shortcake.
Strawberry Shortcake
2 cups Bisquick
3/4 cup cream
2 tablespoons sugar
Add sugar to Bisquick. Stir in Cream and mix well. Turn dough onto lightly floured board and knead gently to smooth up. Roll out 3/4 inch thick. For individual shortcakes cut with 3-inch cutter and bake. For one large shortcake, pat out 1/2 of dough in round 8-inch pan. Dot with butter. Place other half of dough on top. Bake in a hot oven 450 F. for 12 minutes. Split and place sweetened crushed strawberries or other fruit between layers and on top. Serve with whipped cream or as desired. Amount: 6 to 8 individual shortcakes or servings.